Pumpkins are growing in their patches, the smell of cinnamon has just begun to season the air, and the summer heat has faded. Fall is just around the corner, and those with a taste for interior decorating are sure to enjoy the wealth of design opportunities the season will bring with it. In honor of the season, let's take a look at fall colors, textures, and tones and how they can be used to inspire amazing designs in one's home.

The Richness of Wood
Fall is a season of rich, warm colors, from the vibrant hues of harvest vegetables to the rich reds, yellows, and browns of falling leaves. These warm, rich colors remind us of the cooler temperatures and spending more time indoors. Bring the colors of fall into your interior space can help create drama and a coziness that will make guests want to stay a little longer. You can find many of these rich, warm colors through the use of woods. From wood furniture to picture frames, décor pieces, and of course cabinetry, wood textures can add incredible hues to a space while still allowing for other vibrant color combinations in a room.
Dark woods such as brown oak, mahogany, cherry, and chestnut are the perfect way to add a little bit of drama to a room. Use them in various ways, but overall help to create inviting environments that can prove to be any homeowner's sanctuary. Wood is traditionally found in dens and studies although these dark woods can also be the perfect compliment for offsetting lighter hues as well.
Fall colors can also mean medium-toned wood finishes such as darker maple, golden colored oak, walnut, and more. These woods serve as the perfect medium for any of a number of different design options, and can be used to great effect in spaces where warmth is desired, but where one might not favor darker-hued woods.
Using Dark Tones in Interior Spaces
Many people may shy away from using such dark tones in interior spaces. However, just a quick look at the season itself can provide plenty of inspiration for ways to use darker hues in interior spaces without being overwhelming. Because darker woods tend to be on the warmer side, darker hues such as mahogany pair perfectly with the contrasting lighter paint colors. Darker hues also provide the eye a visual respite from brighter hues, which may make them the perfect option for pairing with more experimental design choices.
One of the more interesting aspects of using these darker hues in interior design is that they fit so many different types of aesthetic. Designers often use darker hues in more traditional spaces, but their chic sophistication makes these woods perfect for more contemporary designs. Dark colors also make for a striking contrast when paired with the clean and crisp colors of lighter shades, including white. As a matter of fact, rich and dark woods when paired with white walls and design elements may be one of our favorite fall-inspired designs.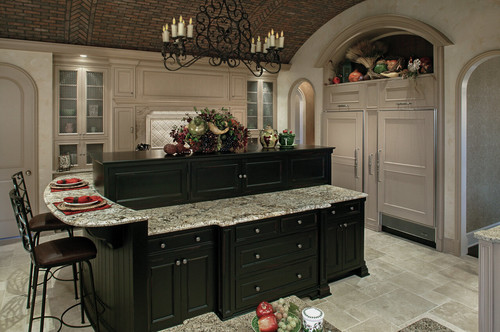 Fall Inspired Kitchen Designs
For many people, the kitchen is a sunny and happy place, and it's only natural to choose sunny and happy colors. However, for others, kitchens bring to mind the warmth and richness of the holidays – think of cookies baking in the oven, pies sitting on the counters to cool, and the scent of spices intermingling in the air.
Rich, dark wood hues are perfect for cabinets, center islands, and kitchen furniture, and can be paired with a multitude of different colors to create dynamic and exciting kitchen spaces. The richness of these dark colors can also help to offset the sometimes-clinical nature of appliances, especially stainless steel, and can help bring coziness back to the kitchen.
There may be some concerns that using darker hues in a kitchen space can make it feel smaller, but rest assured that there are plenty of ways to offset darker elements to create an elegant, open space. Texture is one way to do so. For example, using sheer curtains and airy lighting fixtures can help to create a dynamic and interesting space that keeps a kitchen space looking fantastic year-round – not just in the fall!
Whether you're looking to bring some warmth into your home year-round, or you're simply looking to spice up your interior design for the upcoming season, there are plenty of ways to let fall inspire you.
Call us today for a design consultation.